From humans. for machines.
Super-human quality training data for machine learning – at scale
Computer vision powers autonomous vehicles, drones, and more, but the machine learning algorithms that power computer vision are only as good as the data you feed them.
Achieving effective computer vision hinges on your ability to provide mass amounts of images and video annotated with super-human quality. Your teams have better things to do than annotate images and video for your computer vision applications. ScaleHub safely taps into trusted networks of crowd contributors for the tedious and time-consuming task of image annotation. You get to focus on innovation while we prepare your datasets using the most up-to-date methods.
Our computer vision services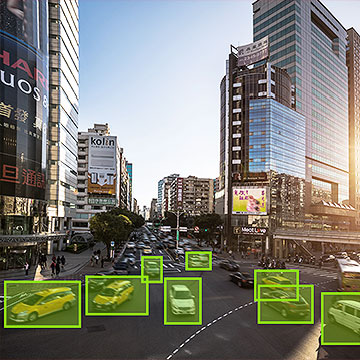 2D bounding boxes
Global crowd contributors draw and label 2D bounding boxes around the relevant objects in your images and videos. You benefit from accurate data that will enhance object detection in your application.
Polygons
Benefit from enhanced object detection thanks to accurate training data. Our global crowd contributors draw and label polygons around the relevant objects in your images and videos.
Semantic segmentation
Separate objects of an image into the segments you need your algorithms to recognize. Our global crowd contributors annotate the objects of interest in your images at pixel level.
Datasets with super-human accuracy
The ScaleHub Portal uses smart algorithms and a proven quality control system within our crowd workforce for the highest quality image annotation and data labeling.
Completion time guarantees
Dividing and conquering huge data volumes among our global crowd workforce means we can guarantee completion times. You get your data when you need it – it's as simple as that.
Simply tackle jobs of any size
Our cloud-native, fully automated crowdsourcing platform gives you access to a global crowd workforce of over 2.3 million, meaning there's no job too big.
Tap into rich data processing expertise
With over 250 years of combined data processing expertise, you're in good hands with ScaleHub. We get things done and help you focus on innovation.
It's that simple. We help you turn your collected data into actionable data. Contact us and find out more.
Use cases
A few examples of how ScaleHub powers computer vision applications with actionable training data:
Autonomous vehicles
Teach self-driving cars to detect and differentiate between cars, street signs, pedestrians, traffic lights and more.
Insurance
Empower your systems to identify fallen trees, power lines, flooded areas and more to create accurate damage reports and process claims faster.
Transportation & logistics
Enable drones or your applications to detect, count and classify containers, and any other items or goods.
Security
Enable your applications to identify abandoned baggage, suitcase contents and more or use facial recognition to identify travelers strengthening security.
Our crowdsourcing platform
0
million
global on-demand crowd contributors accessible
0
+
combined years of experience in data processing
0
billion +
microtasks completed for our customers
Want to learn more and see
our technology in action?
Schedule a 30-minute demo with one of our experts: We'd love to show
you how we can prepare super-human quality training data
for your computer vision applications.